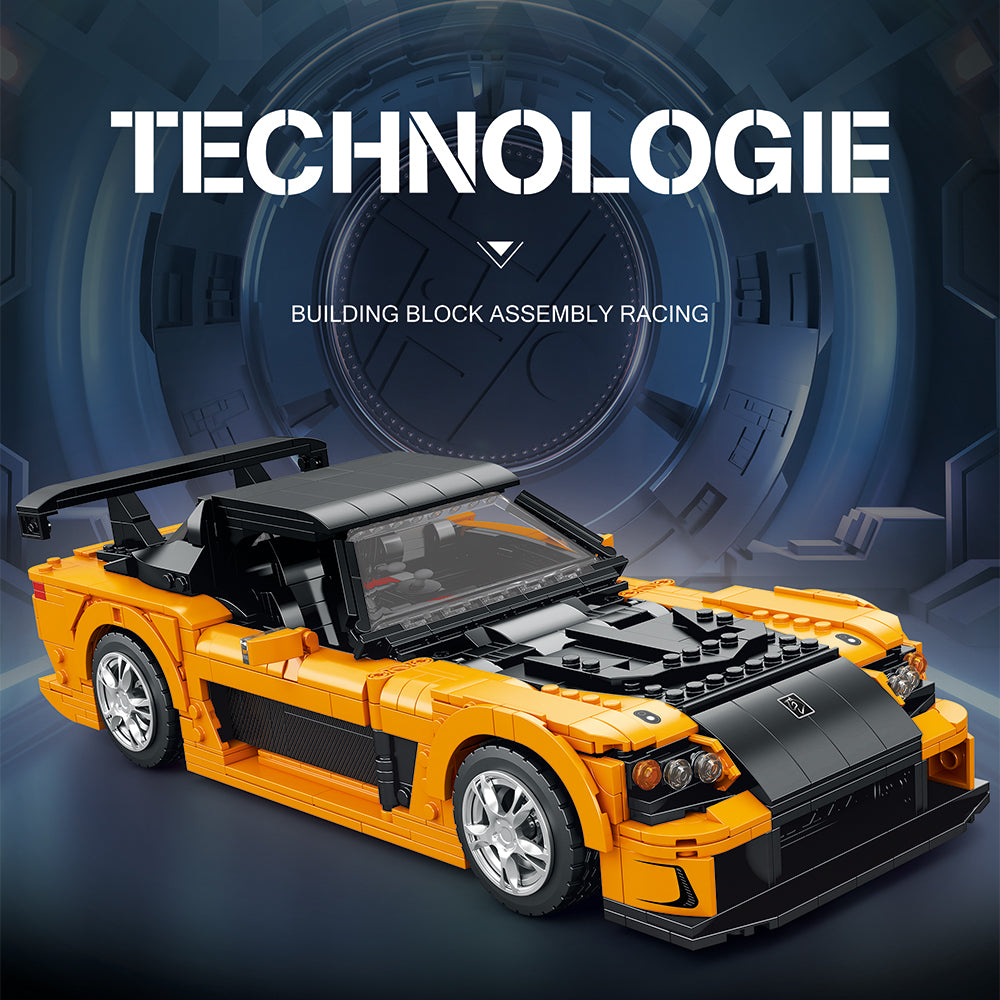 The New Product Line of Building Blocks - Reobrix 11029:RX7
Hello everyone! Today, I am thrilled to introduce Reobrix, a brand new line of building blocks, and showcase one of its iconic creations, the Reobrix 11029:RX7. This remarkable building block set embodies the essence of a supercar, featuring a rotary engine and boasting a 1:12 scale. Let's embark on a journey to explore this awe-inspiring original product!
Authentic Design with Exquisite Details and High Precision: The Reobrix 11029:RX7 captures attention with its authentic exterior design, meticulously crafted to achieve remarkable realism. Every detail has been intricately designed to ensure a high level of precision, making it feel as if you are holding a genuine RX7 supercar in your hands.

Rotatable Steering Wheel for an Immersive Experience: Enhancing the interactive experience, the Reobrix 11029:RX7 is equipped with a rotatable steering wheel, providing the thrill of realistic driving control. This attention to detail brings an immersive sensation, placing you right in the driver's seat.

Manual Opening Doors for an Exciting Entry: The Reobrix 11029:RX7 features doors that can be manually opened, adding excitement and allowing you to explore the interior of this supercar in a realistic way.

Rotating Front Wheels for Added Fun and Flexibility: To elevate the playfulness and flexibility, the Reobrix 11029:RX7 includes rotating front wheels. You can adjust the direction of the wheels according to your preferences, creating various dynamic driving poses.

Metal-Painted Rims for a Premium Look and Feel: Incorporating metal-painted rims, the Reobrix 11029:RX7 exudes a premium appearance. This design not only adds a touch of elegance but also ensures durability and sturdiness for the entire building block model.

Opening Engine Hood for Exploring Mechanical Wonders: The Reobrix 11029:RX7 also allows you to open its engine hood, unveiling the meticulously designed rotary engine and providing a glimpse into the mesmerizing world of automotive engineering.

Opening Rear Trunk for Increased Storage Space: Beyond the engine hood, the Reobrix 11029:RX7 offers an opening rear trunk, providing additional storage space. This feature enhances interactivity and entertainment, allowing you to store small items within the building block model.

Dual-tone Body and Interior Colors for Unique Personalization: The Reobrix 11029:RX7 showcases a distinctive dual-tone body and interior color scheme, allowing for personalized customization. Choose different color combinations to create a one-of-a-kind supercar that reflects your unique style and personality.
Furthermore, Reobrix offers free shipping in Europe and the Americas, ensuring a hassle-free experience. Delivery typically takes around 2 weeks from China, while local delivery is completed within approximately 5 days, depending on the product and region. We provide a refund guarantee and secure payment methods to ensure peace of mind during your purchase.
Reobrix 11029:RX7 represents an exciting addition to the Reobrix building block series. It not only captures authenticity and realism but also offers interactive and functional design elements, unleashing boundless creativity and imagination. Whether you are a building enthusiast, a car lover, or someone seeking a unique gift, the Reobrix 11029:RX7 is the perfect choice.
Join us in experiencing the innovation and exquisite craftsmanship of Reobrix. Immerse yourself in the limitless fun offered by this supercar building block set! For more information about Reobrix 11029:RX7 or the Reobrix brand, please visit our official website or contact our customer service team. Thank you for reading this blog post, and we are excited to share the allure of Reobrix building blocks with you!
Note: The shipping information and specific details about refunds and payment may vary based on Reobrix's actual policies.